Step 1. Backup all your documents and files before you start removing the malware infection
Regardless of your malware infection, the first thing to do is backup all your important files and documents. You can do that by saving your essential data on external source such as DVD/CDs, free cloud storage services, USB sticks or external drives. Use this guide to better backup your online data.
With the help of a backup procedure, you can save your essential data on an external source to keep them safe. You can do it manually or automatically and we recommend using software backup tools like these ones.
Also, if you want to be sure you don't re-infect yourself with the backup, make sure you use some of these specialized tools to scan the backup before you start reusing the information.
Step 2. Enter your PC in Safe Mode with Networking
Here's what you should do:
Unplug DVDs, CDs or other USB drives from your PC and then shut it down.
Restart by pressing F8 key over and over again until it takes you to the Safe Mode with Networking
This will make your system boot up only critical processes and prevent certain malware infections from starting up.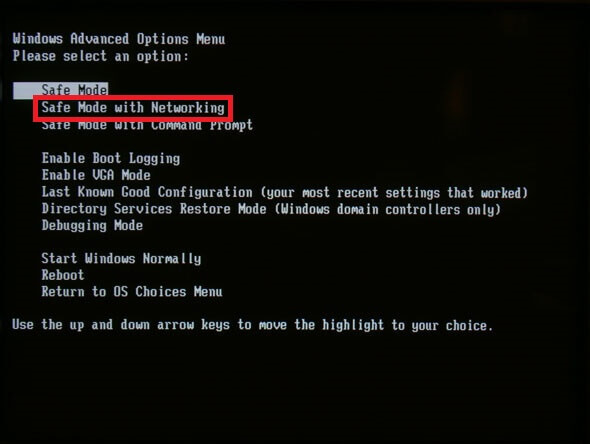 If you are using Windows 8 and/or Windows 10, here's how you can start your PC in Safe Mode. For older versions of Windows, such as Windows 7 or XP, follow these steps.
Step 3. Delete your temporary files
To make the scanning process smoother and simpler, you should delete all unessential temporary files from your computer.
You can do this by right click on a Windows drive, such as C:/ or D:/ – > Properties -> Disk Cleanup. From the Menu, choose which files you want to delete and remove.